Reply to comment
We all love our iPods and we all love listening to music and watching videos on the iPods. Even the 12 hour playback time is good for most. But, what if you still want more playback time from the iPod? Maybe you are camping away from civilization for a week or you just spend too much time in planes. What then?

The answer is an iPod Battery Extender - a small additional battery backup system that increases the life of the iPod battery and provides additional playback time without breaking your iPod or your wallet.

So right down to the point. Here are the three of the best battery enhancers and extenders for the iPod, which we found that offer good value for money and extend the playback time by as high as 55 hours.

Belkin F8E464 Backup Battery Pack for iPod
The Belkin battery pack provides upto 20 hours of additional playback time to your iPod with a set of 4 AA batteries inside the pack, which connects to the iPod dock connector. So, that means you can use standard AA batteries to power your iPod even when the main battery is drained up, which makes it ideal for those long camping trips; just carry spare AA batteries, no charger required. Currently, it's available for US$ 29.99 from here. However, keep in mind that it may not work with all kind of iPod skins.

TuneJuice - 8 hour iPod Battery Extender
TuneJuice iPod battery extender like the Belkin is a simple and effective gadget to increase the playback time of your iPod with one big difference - instead of AA batteries, the TuneJuice uses a 9V battery. Simply plug in the TuneJuice into the iPod docking connector, put in a standard 9V battery and you get 8 hours of additional playback or 4hours, if your iPod is completely drained of it's battery.

The TuneJuice like the Belkin too works with pretty much any iPod with a docking connector including the iPod Nano & iPod Video and is available for US$ 18.99 from Think Geek.

55-Hour iPod Battery Extender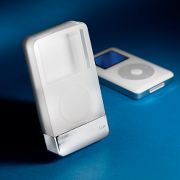 If 8 hours of playback time isn't good enough, then take a look at this 55-Hour iPod battery extender. The 55 Hour iPod battery extender does exactly what is named after, extend the playback time of iPod by 55 hours (the test case done by the manufacturer is on a 60GB Video iPod), which is a whooping 275% more playing time than standard iPods.
As an added bonus, the battery pack is built into a protective case made of silicon with a stainless steel base that protects iPods pin connector while allowing it to be plugged in for recharging without having to remove the cover. Though it does mean you will not be able to use a skin on the iPod, you will get one big tough skin.
The 55-Hour iPod battery extender works with pretty much all iPods and is available in black & white colors for US$ 79.95 from here

A separate edition is available for the iPod nano as well. The good thing is that it does have a lifetime warranty and it does impress us the most as well because of the largest backup time. On the downside it's more expensive than the others.

That pretty much sums up our list of the three powerful and "inexpensive" battery extenders for iPod. Do keep in mind that pretty much none of these extenders will work with the iPod Shuffle and you might like one over the other based on the time of additional backup you require or the convenience of using AA batteries, which is ideal for long trips away from civilization. Out of three we like the Belkin and the 55 Hour battery extender more, personally. As for the iPod Shuffle if you are a little good with electronics you can easily make a USB battery pack hack without much effort.